H o m e
About us
|
Cooperation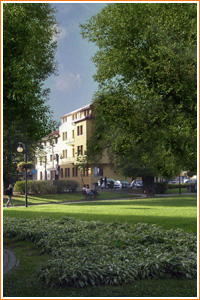 Hotel Slovan was founded in the 30's of the twentieth century and is situated in the historic town of Zilina, Street A.Kmeta. Since its inception, has become a goal of many visits to dealers or tourists just because of convenient location. The adjacent park offers an undisturbed break, directly in the central part of the city.
Near the Hotel is the large urban park with fountain and so the area around the hotel became a popular destination for walks in the old city, not only in domestic but also visitors Northern Slovak metropolis.
The hotel is a frugal access, because it lies near the railway station and bus platform. In addition, the Hotel Slovan offers its guests and its own spacious parking place.

In the hotel guests will find our comfortable single, double and triple rooms in a very accessible price ranges. For more demanding clients are ready luxury apartment with water bed. Comfortable seating a waits guests in the restaurant, snack bar, in summer on the terrace. Hotel Slovan is fully fitted with not only to large social events but also for family events (weddings, graduations, cirques...), business meetings, negotiations and the presentation. Not just for employees of different companies, but for all the guests the hotel restaurant is available each week a delicious daily menu.
We look forward to your visit and hope to us like threads in the future!
Nahor
COOPERATION:
National tourism portal of Slovakia

Nahor
Home
|
Restaurant
|
Accommodation
|
Booking
|
Photo
|
Contact
|
Hotel's emblem